As a 24-hour full-service law enforcement agency, the administrative management and support of the Montgomery County Sheriff's Office is a major undertaking. The Sheriff's Office currently manages an annual budget of over $22 million and a total of 395 employees, including deputy sheriffs and civilians, spread across four divisions.
---
Organizational Charts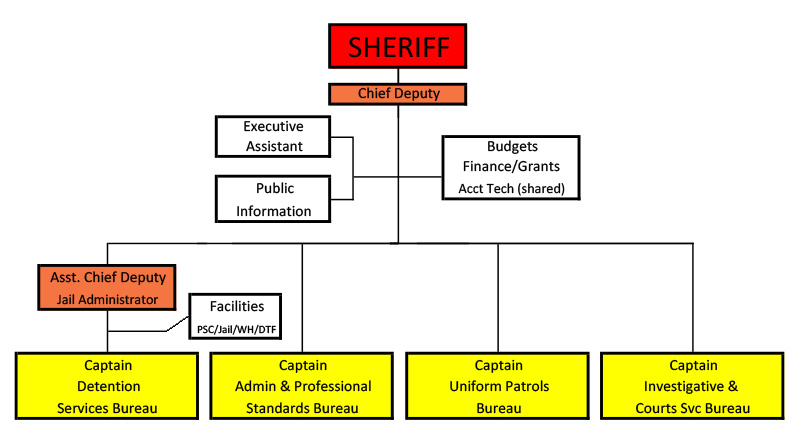 ---
Rank Structure
The rank structure of the Montgomery County Sheriff's Office establishes a chain of command for commissioned deputy sheriffs that allows operations to be effectively directed. The chain of command is a series of management positions in order of authority with each higher rank representing a higher level of responsibility. Higher ranks like Captain and Lieutenant represent a broader range or scope of authority, while lower ranks like Sergeant and Corporal represent a more focused on specialized area or unit of supervision.
The organizational structure is composed of eight basic ranks:
Rank
Badge Color
Scope of Responsibility
Insignia
Deputy Sheriff
Silver
Not a supervisor
None
Field Training Officer
Silver

Field Training Officer for Patrol Shift Supervisor or Detention Division

FTO
Investigator or
School Resource Officer
Gold
Not a supervisor, but Investigators may provide direction for deputies at crime scenes
None
Corporal
Gold
First-line Supervisor/Assistant to Shift Sergeant

2 Chevrons
Sergeant
Gold
Unit or Shift Commander

3 Chevrons
Lieutenant
Gold
Section Commander

Single Gold Bar
Captain
Gold
Division Commander

Double Gold Bar
Chief Deputy Sheriff
Gold
Department-wide jurisdiction with the authority to act in the stead of the Sheriff

Four Gold Stars
Sheriff
Gold
Department-wide authority

Five Gold Stars arranged in a pentagon
* In the Enforcement Division, there are two Sergeant ranks: Sergeant and Investigator Sergeant. While Investigator Sergeants are compensated at a higher pay grade, the scope of authority is the same. In the Detention Divisions, there are two classifications of Sergeant: Shift Commander and Sergeant. Shift Commanders have authority over an entire shift, including other supervisors with the rank of Sergeant, even though their pay grade is the same.