County Mayor - Jim Durrett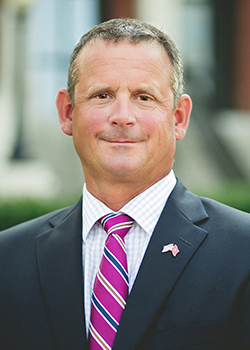 Jim Durrett is the Mayor of Montgomery County and was elected in August 2014.
Jim was born and raised in Montgomery County where he lives today with his wife Mary, a small business owner. Jim and Mary have three children, Jimmy, Thomas, and Paulina. They are the proud grandparents of Thomas, Reese and Walker Durrett. Jim grew up in a family of public servants, his father, Bobby Durrett, served on the Clarksville City Council for 26 years and his mother, Robin Durrett, worked the polls at every election he can remember. Jim and Mary are members of Life Point Church.
Mayor Durrett went to work for the City of Clarksville at a young age, shoveling asphalt during the summers while attending Clarksville High School. After graduation, he attended the University of Tennessee and Austin Peay State University before returning to work full-time for the City of Clarksville. He served the citizens of Clarksville-Montgomery County for 20 years as Director of Streets, and ended a 31 year career in local government as Chief of Staff for the City of Clarksville. He most recently served as Vice President of Business Development for a local bank.
Jim has a long history of community involvement having served as Past President of the Downtown Kiwanis, Past President of Leadership Clarksville, Past Chairman Board of Trustees of the Customs House Museum, Past President of Tennessee Public Works Association (was named Public Works Person of the Year for State of Tennessee), and Past Chair of Military Affairs Committee, Clarksville Chamber of Commerce.