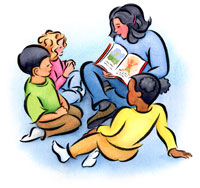 Please note: This is a suggested list to read aloud or have your child read independently. Parents may wish to preview all content to ensure appropriateness for their children.
Allard, Harry. (E All) Miss Nelson Is Missing
Asch, Frank. (E Ash) Moonbear (Series)
Asch, Frank. (E Asc) Happy Birthday, Moon
Bemelmans, Ludwig. (E Bem) Madeline (Series)
Berenstain, Stan & Jan. (E Ber) Inside Outside Upside Down
Bonsall, Crosby. (E Bon) And I Mean It Stanley
Bonsall, Crosby. (E Bon) The Day I Had to Play With My Sister
Brett, Jan. (E Bre) The Mitten
Byars, Beverly. (E Bya) My Brother Ant
Brown, Marc. (E Bro) Arthur's Underwear (Series)
Capucilli, Alyssa. (E Cap) Biscuit (Series)
Carle, Eric. (E Car) A House For Hermit Crab
Carle, Eric (E Car) The Grouchy Ladybug
Henkes, Kevin. (E Hen) Shelia Rae, the Brave
Henkes, Kevin. (E Hen) Lilly's Purple Plastic Purse
Hest, Amy. (E Hes) You're the Boss, Baby Duck
Hillert, Margaret. (E Hil) I Love You, Dear Dragon (Series)
Hoban, Lillian. (E Hob) Arthur's Camp-out
Kraus, Robert. (E Kra) Leo the Late Bloomer
Lobel, Arnold. (E Lob) Owl at Home
Lopshire, Robert. (E Lop) Put Me in the Zoo
Martin, Bill. (E Mar) Brown Bear, Brown Bear
McCloskey, Robert. (E McC) Blueberries for Sal
McCloskey, Robert. (E McC) Make Way for Ducklings (Caldecott Medal)
Minarik, Else Homelund. (E Min) Little Bear (Series)
Munsch, Robert. (E Mun) Love You Forever
Noble, Trinka Hakes. (E Nob) The Day Jimmy's Boa Ate the Wash
Parish, Peggy. (E Par) Amelia Bedelia (Series)
Rylant, Cynthia. (E Ryl) Henry and Mudge (Series)
Sendak, Maurice. (E Sen) Where the Wild Things Are (Caldecott Medal)
Sharmat, Marjorie. (E Sha) Nate the Great (Series)
Shaw, Nancy. (E Sha) Sheep in a Jeep (Series)
Small, David. (E Sma) Imogene's Antlers
Van Leeuwen, Jean. (E Van) Amanda the Pig (Series)
Willems, Mo. (E Wil) Knuffle Bunny
Wiseman, Bernard. (E Wis) Morris the Moose
Yolen, Jane. (E Yol) How Do Dinosaurs Say Goodnight?