This tutorial site makes use of cartoons, audio narration, sounds, and clickable words to teach phonics. Phonics rules and practice pages are included.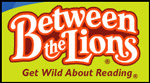 BETWEEN THE LIONS, the award-°©‐winning PBS series, has expanded online resources for preschool and kindergarten teachers to help young children learn to read — PLUS animated stories, music videos, poems, songs, interactive games and more.

This site is sponsored by the National Center for Learning Disabilities, and offers early literacy activities for children. Not only are early literacy games provided for children, but also parents also find many helpful resources such as literacy checklists and early literacy webinars. For bilingual readers, the information on the website can also be changed to Spanish, Chinese, Korean, and Arabic.

An early literacy website "where young children discover the world of reading and grownups enjoy the journey." Young children can read, sing, play, and explore a variety of subjects and books. The site is also available in Spanish.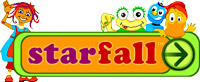 This website features short stories that concentrate on a vowel or blend sound. By clicking on a word, help is given. Primarily designed for first grade, also useful for pre-°©‐kindergarten, Kindergarten and second grade.


Get your child ready to read! Watch short videos modeling songs, rhymes, and fingerplays. Each video includes helpful early literacy tips. Sorted by age groups (babies, toddlers, and preschoolers)