Green Certification Program Awards Banquet
2019 Green Certification Banquet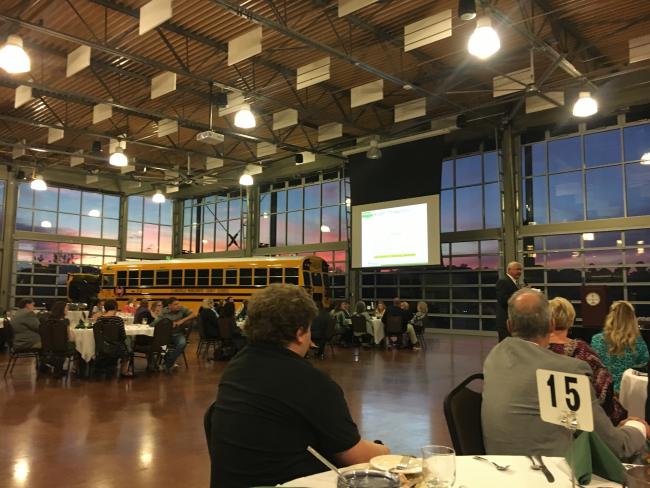 Additional photos available on Clarksville Now
The banquet was held on Thursday, September 26th at the Wilma Rudolph Event Center. Guest speakers included Jim Sumrell and Amy Peterson from CMCSS. The 2020 UPCYCLE Challenge was annoucned and additional details about the Challenge will be provided in mid-October.
The newly certified organizations for 2019 included:
Arcadia Senior Living Center
Clarksville Regional Airport
Fifty Plus Activity Center
Thurman Campbell Group
James Corlew Chevrolet
Kroger
The recertifiying organizations for 2019 were:
Agero

Akebono

Altra Credit Union

Appleton Harley-Davidson

CDE

Clarksville Dental Center

Clarksville Fencing

Clarksville Gas & Water

Clarksville Montgomery County Public Library

Customs House Museum & Cultural Center

DBS & Associates

Immaculate Conception School

Legends Bank

MainStream Heating & Cooling

Montgomery County Courthouse

NCI

PDI

Quality Inn

Queen City Disposal

Red Knight Distribution

Riverview Inn

Stone, Rudolph & Henry

Trane
The following organizations reached a new certification level during 2019.
SILVER Level = Altra Federal Credit Union, Arcadia Senior Living Center, Clarksville Gas & Water, Stone Rudolph & Henry and Trane.
GOLD Level = Clarksville Dental Center, DBS & Associates, Montgomery County Courthouse and Riverview Inn
PLATINUM Level = Red Knight Distribution
The banquet also included the presentation of the annual Green Certification Awards. The following awards were presented:
Outstanding Efforts in Air Quality = Clarksville Montgomery County School System
Outstanding Efforts in Employee Engagement & Education = Red Knight Distribution
Outstanding Efforts in Land Use = Montgomery County
Outstanding Efforts in Recycling = Florim
Outstanding Efforts in Resource Conservation = Agero
Outstanding Efforts in Reduction = Red Knight Distribution
Outstanding Efforts in Water Quality = Austin Peay State University
Outstanding Efforts in Reuse = Clarksville 50+ Activity Center
2019 Best Overall Small Organization = DBS & Associates
2019 Best Overall Large Organization = Red Knight Distribution
2019 Ron Smithfield Award (presented to an individual that has shown great dedication to the Program and environment) = Daryl Pater