CMC Green Certification Program
2019 Green Certification Banquet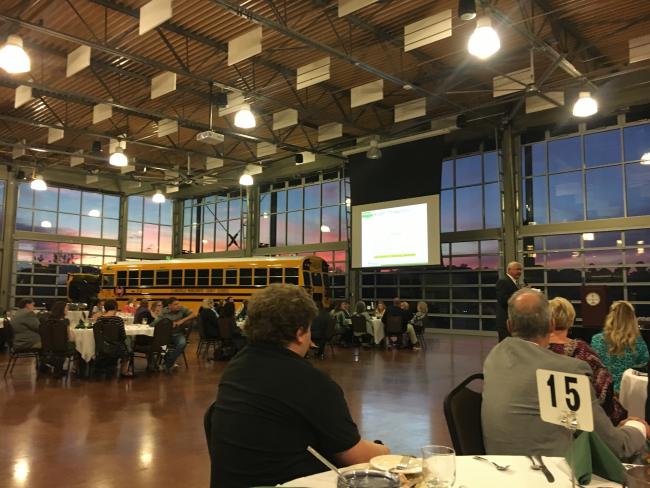 Additional photos available on Clarksville Now
The banquet was held on Thursday, September 26th at the Wilma Rudolph Event Center. Guest speakers included Jim Sumrell and Amy Peterson from CMCSS. The 2020 UPCYCLE Challenge was annoucned. Additional details on the challenge and the official 2020 rules can be found here.
The newly certified organizations for 2019 included:
Arcadia Senior Living Center
Clarksville Regional Airport
Fifty Plus Activity Center
Thurman Campbell Group
James Corlew Chevrolet
Kroger
The recertifiying organizations for 2019 were:
Agero
Akebono
Altra Credit Union
Appleton Harley-Davidson
CDE
Clarksville Dental Center
Clarksville Fencing
Clarksville Gas & Water
Clarksville Montgomery County Public Library
Customs House Museum & Cultural Center
DBS & Associates
Immaculate Conception School
Legends Bank
MainStream Heating & Cooling
Montgomery County Courthouse
NCI
PDI
Quality Inn
Queen City Disposal
Red Knight Distribution
Riverview Inn
Stone, Rudolph & Henry
Trane
The following organizations reached a new certification level during 2019.
SILVER Level = Altra Federal Credit Union, Arcadia Senior Living Center, Clarksville Gas & Water, Stone Rudolph & Henry and Trane.
GOLD Level = Clarksville Dental Center, DBS & Associates, Montgomery County Courthouse and Riverview Inn
PLATINUM Level = Red Knight Distribution
The banquet also included the presentation of the annual Green Certification Awards. The following awards were presented:
Outstanding Efforts in Air Quality = Clarksville Montgomery County School System
Outstanding Efforts in Employee Engagement & Education = Red Knight Distribution
Outstanding Efforts in Land Use = Montgomery County
Outstanding Efforts in Recycling = Florim
Outstanding Efforts in Resource Conservation = Agero
Outstanding Efforts in Reduction = Red Knight Distribution
Outstanding Efforts in Water Quality = Austin Peay State University
Outstanding Efforts in Reuse = Clarksville 50+ Activity Center
2019 Best Overall Small Organization = DBS & Associates
2019 Best Overall Large Organization = Red Knight Distribution
2019 Ron Smithfield Award (presented to an individual that has shown great dedication to the Program and environment) = Daryl Pater
Green Certification Program and Furniture Connection Win 2019 Recycler of the Year Awards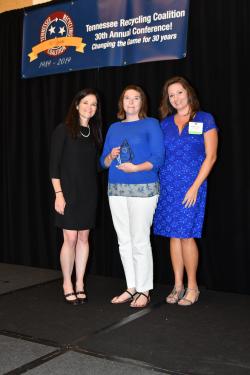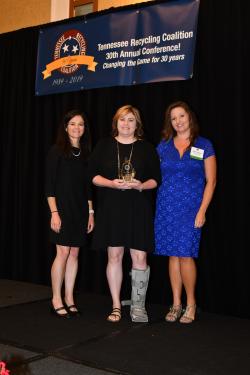 The Tennessee Recycling Coalition (TRC) has selected two Montgomery County organizations for its 2019 Recycler of the Year Awards. The Clarksville-Montgomery County Green Certification Program was selected the Government Recycler of the Year and Furniture Connection (a.k.a. Red Knight Distribution) received the Recycling Video Production of the Year.
TRC is a non-profit organization dedicated to promoting recycling and sustainable materials management practices in the state of Tennessee. Each year, TRC selects winners from across the state that have made outstanding achievements in recycling. The 2019 awards were presented earlier this month in Gatlinburg in conjunction with TRC's annual conference.
The Green Certification Program received the award for its work promoting and expanding recycling practices throughout Montgomery County. Furniture Connection's winning video that was produced with assistance from Austin Peay State University was showcased at the 2018 Green Certification Program Banquet. ,The video explains how Furniture Connection is able to save 300,000 square feet of landfill space annually through Styrofoam recycling. The video can be viewed online at https://www.youtube.com/watch?v=K054Bm-2GdY&feature=youtu.be.
For more information on TRC and the other 2019 Recycler of Year award recipients visit https://tennesseerecyclingcoalition.wildapricot.org/.
Start a Green Cube at Your Office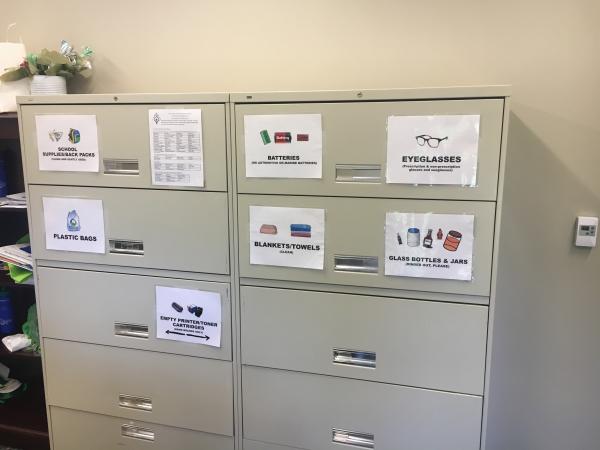 If you have a spare cubicle, or even some extra counter space, consider using the area to collect donations and hard to recycle items from your staff.
The idea started at TDEC's Office of Policy and Sustainable Practices where they provide cubicle space for staff to recycle and donate unwanted items. The Montgomery County Histroic Courthouse recently started their own Green Cube (pictured above). Courthouse staff are collecting batteries, printer cartridges, eyeglasses, blankets/towels, single use plastic bags and glass. Once the boxes are full the items are taken for recycling.
TDEC has created a document on starting a Green Cube at your office. If you do create a Green Cube and need to know where to take your materials click here for a list. Finally, once your Green Cube is set up be sure to send a photo to the Green Certification Program.
Welcome to the Newest Members of Green Certification Program
Clarksville Regional Airport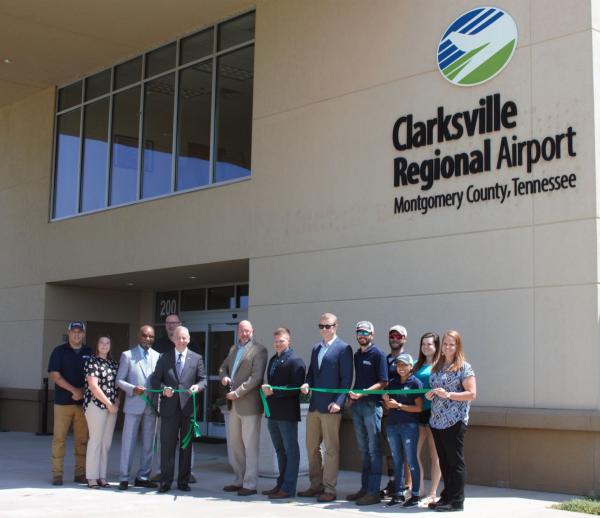 Arcadia Senior Living Center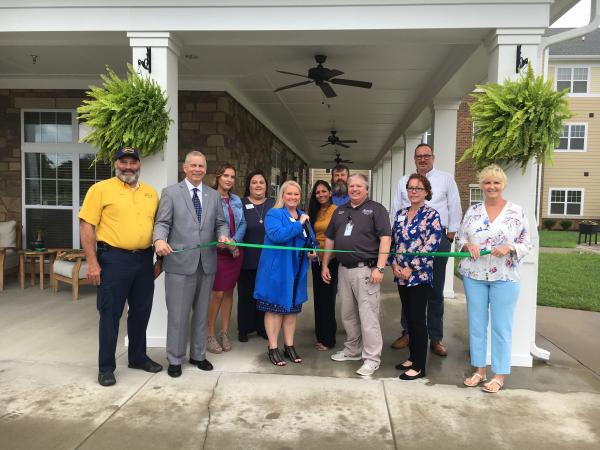 Clarksville-Montgomery County Sustainability Report
Check out the 2017 Clarksville-Montgomery County Sustainability Report to see what environmental efforts have been accomplished so far, some of the future goals, and what can be done at the residential level. The topics of air quality, energy conservation and efficiency, stormwater management, water quality and waste reduction affect everyone who resides in Clarksville and Montgomery County. Work on the report began in fall 2014, when County Mayor Jim Durrett and City Mayor Kim McMillan agreed to have a Sustainability Task Force develop a Community Sustainability Report focused on areas that impact our local environment.
Clarksville-Montgomery County Named Gold Community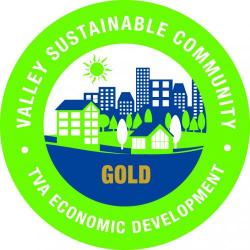 Clarksville-Montgomery County has been named a Valley Sustainable Gold Community by the Tennessee Valley Authority (TVA).
Previously named a Silver community in 2015, the city-county recently completed a program reevaluation. Developed in partnership with TVA and Boyette Strategic Advisors (Boyette), TVA's Valley Sustainable Communities program works with cities and counties throughout the region to help them develop a healthy environment, a thriving community and long-term economic prosperity. In order to achieve this advancement, the local committee initiated several improvements to already existing green practices as well as created a written sustainability plan for the community moving forward.
Spearheaded by a joint effort between the Clarksville-Montgomery County Industrial Development Board and the Montgomery County Green Certification program, the advancement from Silver to Gold in the Valley Sustainable Communities Program helps our community better document, and thus improve, existing sustainability programs.
To learn more about Valley Sustainabile Communities visit the TVA website.